Shopaholism: Self Edge New York City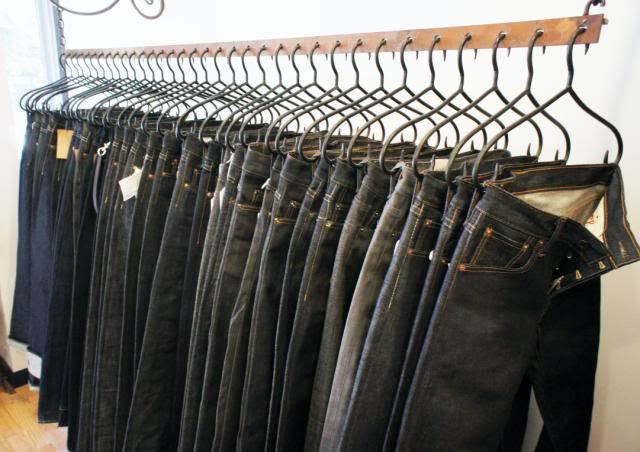 Self Edge
is a small store with a product line to put large stores to shame. They're denim specialists in the purest sense. I mean, look at that rack, no washes and no damage- just beautiful raw jeans in every weight, cut and denim style you can imagine. They carry all of the finest jean manufacturers from around the world. Some of my favorites in stock are Skull, Imperial and Flathead, but they've also got a lot of great looking non-jean-related clothing; all in a space that makes you feel welcome and right at home.
See more pictures and read more about Self Edge by clicking on the link below.
When Self Edge opened in NYC in 2009, they already had a branch in San Francisco, California and now they've opened another store in Los Angeles. Located on the Lower East Side of NYC, Self Edge New York has distanced themselves from the glitzier areas where they no doubt could have thrived. We're appreciative of that decision. The low key area where the store is situated brings some calm to the shopping experience. The staff is incredibly knowledgeable (they have to be to explain all about this many pairs of jeans) and they'll work with you for as long it takes to find you the ultimate pair of jeans. Then, when you wear your jeans into oblivion and you've got holes and rips or need your hems repaired they'll take care of that for you as well.
The store itself has a vintage look, I suppose its a play on the vintage techniques used to produce many of their products. It definitely works. There are old clocks, wooden racks, iron hangers and that awesome looking desk- very traditional America... I mean jeans ARE very traditional America aren't they?
When you're in the market for your next pair of raw jeans, we strongly advise you to hop on the F train for a trip to Self Edge. You won't be disappointed.
Self Edge
157 Orchard Street (at Rivington Street)
Lower East Side NYC
(212) 388-0079
www.selfedge.com