Shopaholism: Sugarcube Philadelphia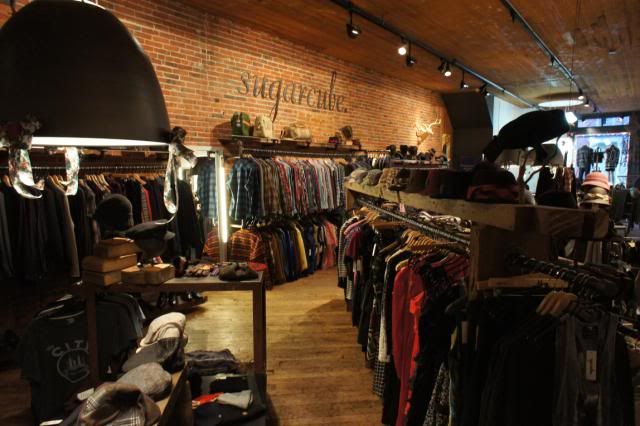 At
solifestyle
we pride ourselves as being SERIOUS shoppers. That means knowing what new stores are opening, when new collections are releasing or where you can buy every one of your favorite brands at any time. What we're trying to say is that we're a bit upset we didn't find out about
Sugarcube
in Philadelphia until recently- because it should have been on our radar much sooner. Sugarcube carries some of our favorite brands like A.P.C. and Levi's XX (the recently consolidated branding for Levi's Made & Crafted and LVC) and they've got a great looking setup to show it all off.
Take a detailed look at the shop after the jump.
Opened in 2004, Sugarcube is located in the fashionable and historic Old City area of Philadelphia and the store's aesthetic does a good job of merging modern trends with a vintage feel. The floor and ceiling in the shop are made of great looking hardwood and the store's name is scrawled in huge letters across the exposed brick wall. The lamps, artwork and displays all serve to accentuate this new-meets-old feel and the end result is a beautiful looking retail space.
On the racks sits a blend of contemporary fashion and vintage clothing which is something we rarely encounter. Trend-wise, Sugarcube is on point. Among our favorite brands in stock are- Pendleton, A.P.C., Levi's XX, Rogues Gallery and Dunderdon. The vintage selection is not to be ignored either, we really liked the jewelry on display.
Sugarcube
124 North 3rd St.
Philadelphia, PA 19106
(215) 238-0825
http://sugarcube.us