A Bathing Ape Snowboard Jackets
What better way to look awesome on the slopes than to rock your Bape camo while carving the powder? Some of solifestyle's favorite A Bathing Ape releases each year are their snowboard jackets. They're guaranteed to make you turn some heads in the lift line and to keep you warm and dry all day. There are versions available in either Goretex or nylon every winter season in that given year's thematic Bape camouflage.
Take a closer look at the tonal Goretex 'hidden camo' snowboard jacket after the jump.
The hidden camo snowboard jacket makes use of one of Bape's most innovative camo ideas. The camouflage is difficult to see in certain lights but very visible in bright sunlight, which makes for an interesting and subtle effect unlike some of the other brightly colored Bape camo iterations.
All A Bathing Ape snowboard jackets come with some great detailing- the front zip is covered by a flap with A BATHING APE embroidered on it. All of the drawstrings have Ape Shall Never Kill Ape on the strings and A BATHING APE plastic elements. All of the zippers say BAPE on them and have nice nylon zipper pulls. The hidden camo version of the jacket was produced only in Goretex which makes it windproof, extra durable and water repellent. That is not to say the nylon versions of the jackets do not work, but the Goretex is a little something extra.
solifestyle
would definitely recommend one for the slopes or just for casual wear, the quality has not done us wrong in the past 3 years. But a note on sizing- if you plan to wear the jacket casually you may want to size down. I wear M in almost everything but I bought S for a perfect casual fit. If you plan to ski or snowboard in it, stay true to size, you'll want the extra room to layer underneath the jacket and to be able to stuff things into the pockets.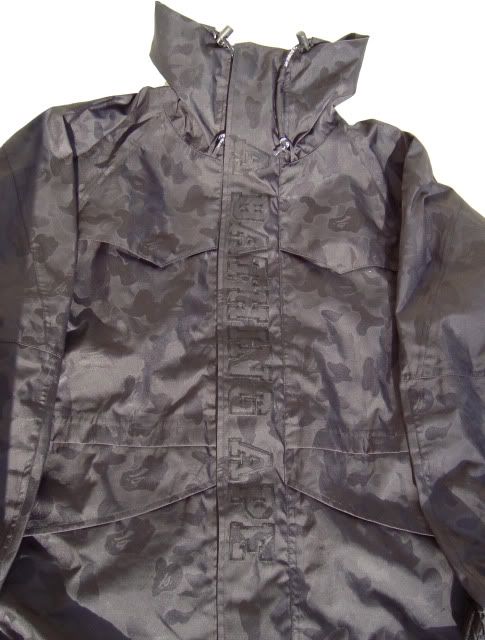 A Bathing Ape is embroidered down the flap that covers the front zipper, and flaps cover the two front pockets to keep the snow out.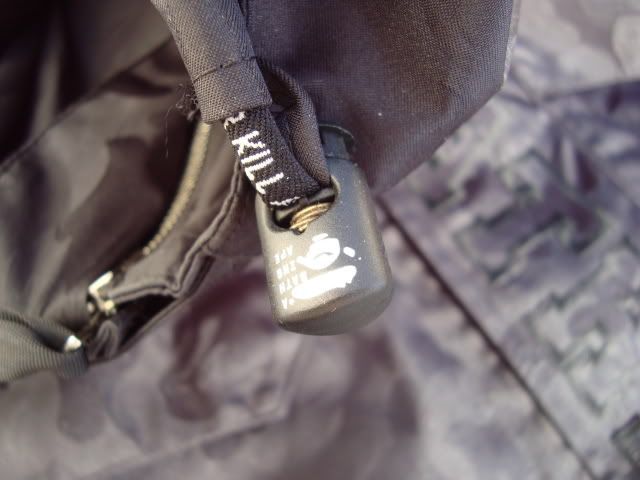 All of the draw string elements on the hood and waist have 'A Bathing Ape' and 'Ape Shall Never Kill Ape' written on them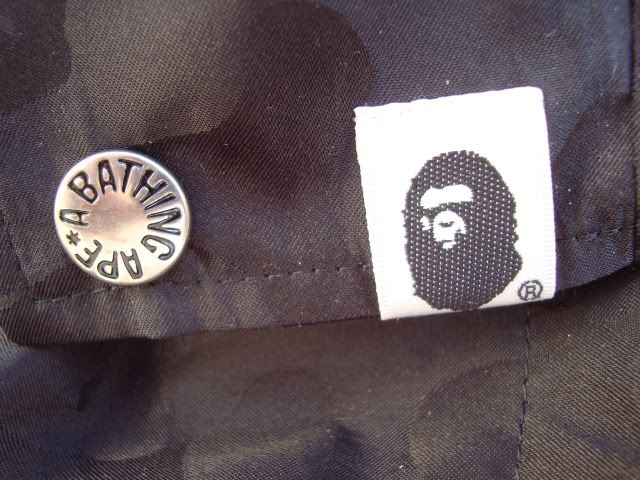 The trademark Bapexlcusive black ape head tag and A Bathing Ape Buttons
Nylon Zipper Pulls and zip and velcro closures.