Good Eats: Shang NYC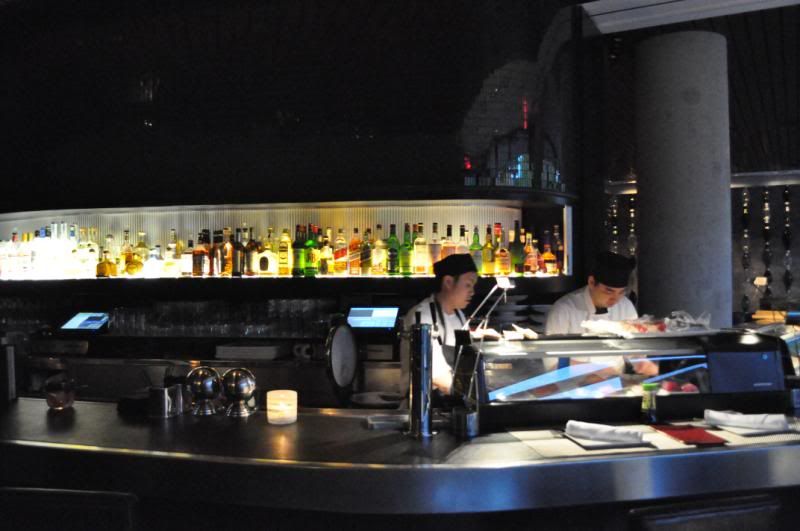 Susur Lee was our favorite kitchen warrior on the last round of
Top Chef Masters
and we've been meaning to go to his restaurant Shang on the Lower East Side of Manhattan for the last few months. It took a while, but we finally consoled our wallets into letting us go and ended up having an amazing meal in the beautifully decorated restaurant. As we ate, the ambiance was pleasantly quiet so nothing was competing with the wonderful flavors of the slightly fusion but mostly Asian cuisine on our plates. Sooz had duck and I had the skirt steak, but the real stand out was the white tuna appetizer, which was one of my favorite menu items in recent memory.
Take a closer look at Shang after the jump.
Shang is located in the Thompson Lower East Side Hotel and the edgy ambiance of the lounge area and sushi bar reflects the downtown vibe. Predominantly black with some orange and red accents, the color choices in the restaurant reflect NYC as well as an asian vibe.
The service was attentive and the food arrived promptly. We split an appetizer, but shared two main courses with a side of noodles with veggies and the amount of food was just about perfect. The flavors were rich and true to the Asian cultures they drew from- primarily Chinese with some South East Asian accents mixed in. Overall, it a delightful experience with some great food but Shang is well out of the way of our main NYC stomping grounds, plus it's somewhat high pricing makes it stand out from the huge amount of inexpensive bars and restaurants that surround it on neighborhing Stanton and Rivington Streets. Should you stumble upon it though, I would very much encourage you to give it a try.