Food for Thought: Macondo NYC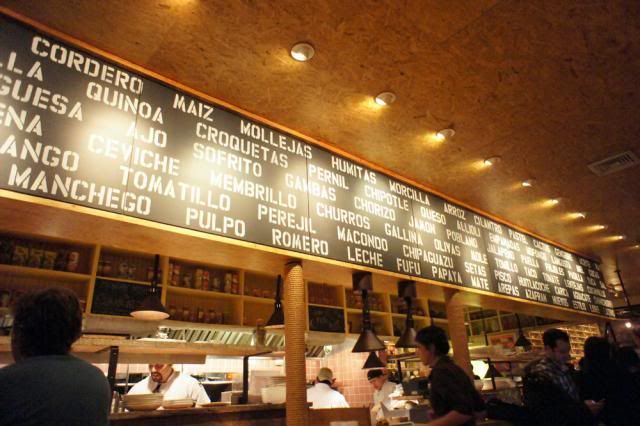 Macondo at Houston St. at 1st Avenue is a bustling tapas bar that serves up giant sized 'small plates' designed for sharing. We went out on a Saturday night and it was completely packed - we suggest making a reservation in advance if you don't want to stand around waiting. We recommend the restaurant for a group, but definitely not for a romantic evening because when you ask your date if they are having a good time, you won't hear the answer. That being said, we enjoyed our meal for the most part and had a great time munching and drinking sangria with friends. Read more after the jump.
We had a couple minor complaints with the restaurant other than the noise and chaos level. Among them was the size of the portions. The waitress explained that people generally order 2-3 dishes per person but there is no way any normal person could handle 3. We had to summon all of the skills we learned watching the Nathan's Hot Dog Eating Contest and the Wing Bowl to finish 2 plates each.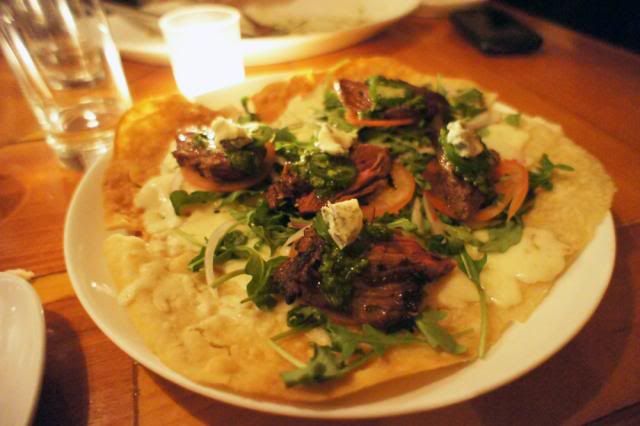 Buenos Aires Flat Bread
The plates that we liked were delicious, but there were some that could have been better. The lamb tacos and the pork belly flat bread sounded so good but disappointed in the end. At the top of our list were the Buenos Aires flat bread, patatas bravas and the croquettes. The sangria was excellent as it should be at a tapas restaurant - just the right blend of wine and fruit. It made the noise a bit easier to handle.
The aftermath
Overall our experience was very good, we had a big group and the service never left us wanting even if a couple of the plates did. We would definitely return, but at a less busy time, the restaurant that much better if it were a bit more relaxing. It's certainly worth a try if you and your friends like to drink and share dishes.
Macondo
157 East Houston Street
New York, NY 10002
(212) 473-9900