Jeans!: Uniqlo 'All Made In Japan' Washed Jeans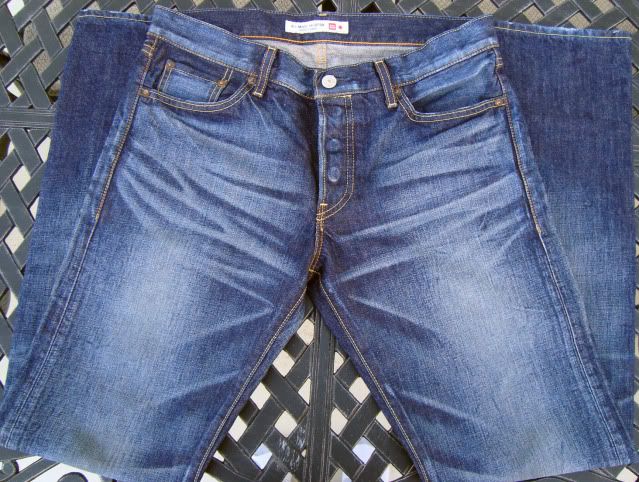 Following our brand profile on Uniqlo,
solifestyle
presents a pair of Uniqlo slim straight 'All Made In Japan' washed jeans. Uniqlo has developed a great lineup of jeans that include everything from raw selvedge denim to really detailed Japanese style washes. Their cuts range from loose relaxed fits to skinny and come in array of colors from traditional indigo to bright red. This wash is one of my favorites, it looks like something you would find on a pair of LVC or Neighborhood jeans at under $100.
Uniqlo's jeans are definitely one of their fortes. If you love Japanese denim but are hesitant to spend $300 on a pair of raw denim you're not alone and Uniqlo has your answer. Their 'All Made In Japan' line of jeans uses Japanese denim and techniques to produce a great looking pair of jeans at a great price. The indigo raw models use a Japanese redline selvedge denim and their washed versions have a beautiful Japanese style wash with great fading and color contrast.
As any person that has tried on jeans knows, denim can look great but fit terribly. Uniqlo has you covered in the fit department too, they have cuts for just about everybody but I would recommend their slim straight or slim tapered for a great modern look. I've seen people get the Uniqlo slim tapered confused with Dior 19cm jeans, and if that isn't a great endorsement I'm not sure what is.
solifestyle
is quick to recommend Uniqlo jeans to just about anybody. Uniqlo jeans start at about $30 but the higher quality Japanese construction starts at about $70 and goes as high as $120. The only thing we don't like about their jeans is that some of the cheaper pairs have unnatural creasing applied to them. But in a world that worships $400 designer jeans, Uniqlo is breathing fresh air into the denim industry.
Our contributor The Locust was nice enough to buy these for me a couple years ago in Japan before the 'All Made In Japan' line was available at Uniqlo in NYC. It has since arrived, so stop by and check it out.
Uniqlo NYC
Broadway between Prince and Spring Streets
Soho NYC
or preview the denim styles before you buy
here
.