Jeans!: Neighborhood 2010 Deep Mid Washed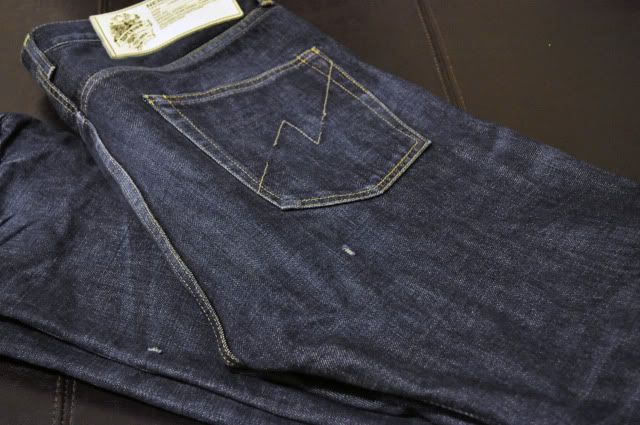 Though Neighborhood is known for their detailed 'Savage' jeans like the Glory Savage presented last week by solifestyle, their washed jeans aren't to be overlooked. The recent seasons of Neighborhood's washed indigo jeans have a dark wash that starts out quite subtle but gets more pronounced with wear and washing. Since 2008 Neighborhood has also moved towards more modern and tapered cuts for their jeans. Pairing their new silhouettes with an understated wash makes for a great looking pair of jeans.
More information on the 2010 washed deep mid after the jump.
Neighborhood introduced the deep mid cut in 2008. It is a full straight leg fit in the seat and thigh but tapers down to a smaller leg opening. Its a great look for somebody that wants something a bit slimmer looking than a levis 501 but isn't willing to make the jump to a true slim tapered fit- though Neighborhood now makes a slim tapered fit called deep narrow. Neighborhood's washed line features the same amazing Japanese style wash that appears on their 'Savage' jeans only without the scarring, ripping and chainstitching effects which is a more acceptable toned down look for some.
solifestyle loves Neighborhood washed jeans, the denim is soft to the touch and they're comfortable to wear around day after day, but the price is a bit high- expect to pay between $350-$400 for a pair. As far as sizing goes Neighborhood uses S-XL rather than waist sizes for their jeans. This past season for the deep mid washed, size S is roughly 31, M is roughly 33, L is roughly 35 and XL roughly 37. Sizing does vary by cut and style though, so be careful to know your size before spending so much on a pair of jeans.