Converse Jack Purcell Zipper Hi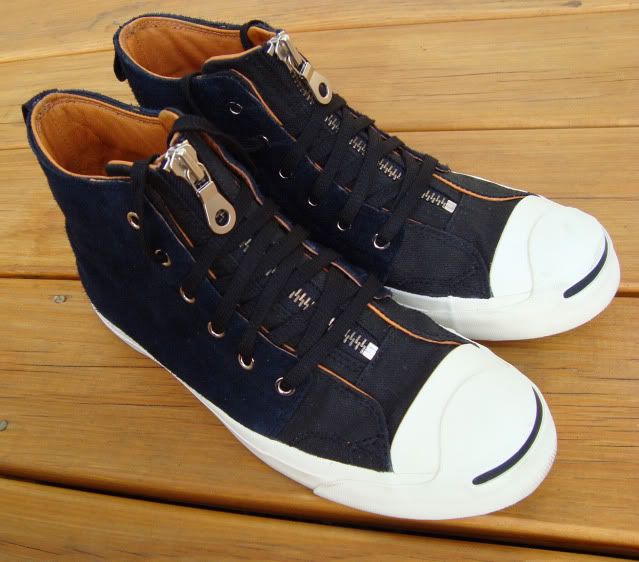 Converse has a number of classic silhouettes in their sneaker lineup. A close second behind the Chuck Taylor is the Jack Purcell. Its latest iteration, the Zipper Hi, is a great looking concept that left us wanting more in the functionality department. solifestyle has a pair in hand, and maybe on foot (if we have enough time).
Read more after the jump.

My morning routine starts like this: wake up, clean up, clothes on, walk to door... then here's they key part- jam foot into unsuspecting sneaker, dance around for roughly 10 seconds getting sneaker completely on foot, then walk out the door. Think I'm lazy? I confess that I am.
The Coverse Jack Purcell Zipper Hi sneaker is really limited (just 500 pairs), and it sure is great looking, but for me it just might be more trouble than it's worth. I like a shoe that I can put on quickly, and there are lots that fit that category, but the ease-of-use category is where the Zipper Hi fails.
Unfortunately, the element that makes these shoes the most desirable also makes them very difficult to put on. The zipper and laces do not work well together. In order to put the shoe on or take it off, you must loosen the laces completely and unzip the shoe. I suppose you could wear them without laces like the
Visvim Kiefer Patala
but for me it doesn't look quite as good without them. Converse would have done well to put a side or back zipper on the shoe so that you don't need to use the front zip or laces at all once they're done.
Overall, if you're not a lazy person this shoe looks and feels great, it's a must buy. There are even some still available
here
($100). But I warn you, if you're going shopping and you want to try pants on at several stores- avoid at all costs.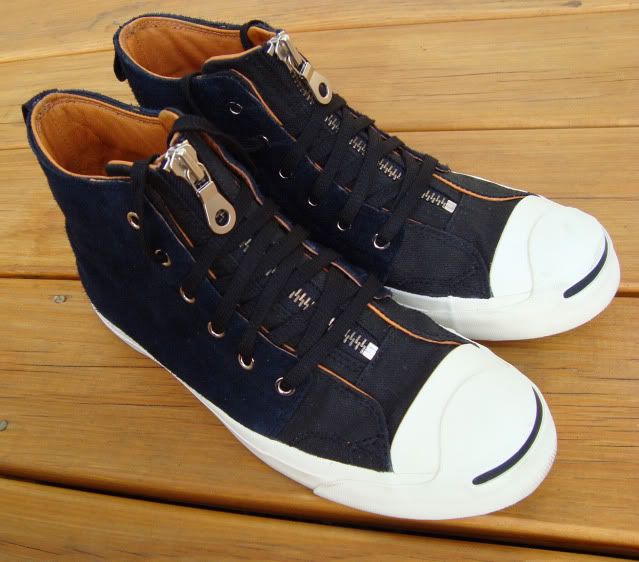 The Jack Purcell Zip High features black suede layered over black canvas and a large front zipper with laces that run over it.