Beauty Review: Too Faced Naked Eye Box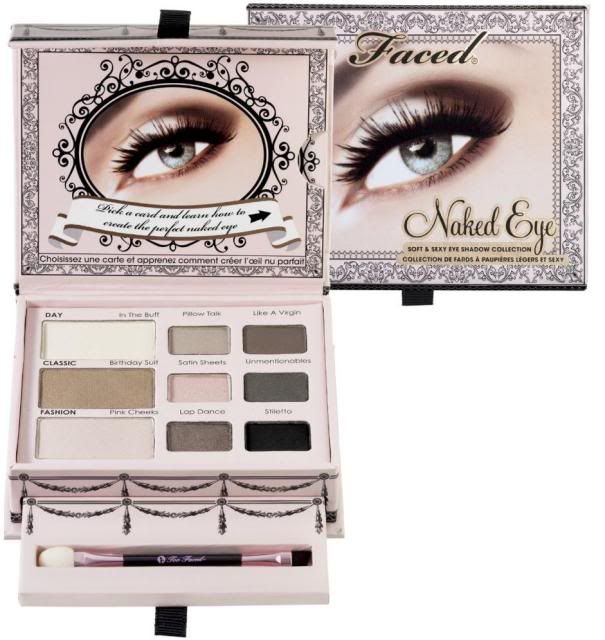 This is one of the first relatively major beauty items I bought after getting really interested in makeup. It is the Naked Eye Soft & Sexy Eye Shadow Collection by the brand Too Faced.
Click below for more info & pics.
I like everything I've tried to far from this brand, including this set of eye shadows. This box includes 9 eyeshadows total in groups of threes representing three different looks: Day (top), Classic (middle), and Fashion (bottom).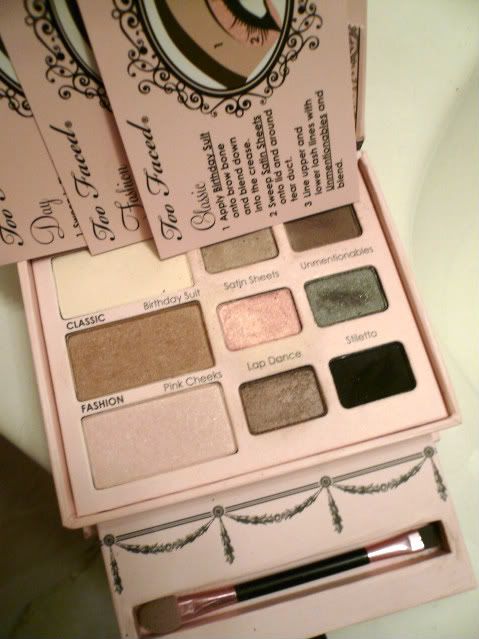 The box comes also comes with three cards that illustrate and describe how to create each of the three looks, and a double-ended brush (which is pretty cheap, but you're just supposed to use your own brushes anyway).
The shadows are well pigmented and go on easily with barely any creasing (although, I do use an eye shadow primer to help with this). The only color I'm a little disappointed with is the white "In The Buff" color - it tends to go on a little streaky/chalky. I also wish the whole box was little smaller in size so it's easier to travel with - the box is needlessly bulky due to the small drawer that contains the brush (see pics). Other than these details, I'm very happy with this boxed palette and I recommend it for girls looking for easy, everyday makeup.