A Bathing Ape: Ursus U.S.S Crewneck Sweatshirt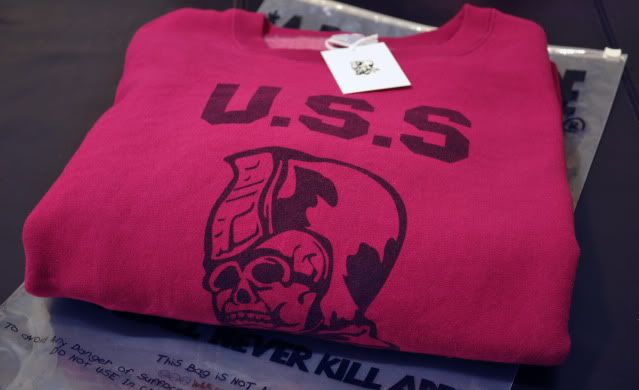 For the past couple seasons, A Bathing Ape has collaborated with Tetsu Nishiyama of W)taps on a line called Ursus which emphasizes a more mature look than the usual Bape clothing. This crewneck was a must have for me when I saw it in this season's Ursus lookbook.
Take a look after the jump.
Bape and W)taps have a long history of collaboration so it did not surprise people with knowledge of both brands when Nigo invited Tet to design the Ursus diffusion line for Bape. One of the most well known motifs used in previous Bape and W)taps collaborations was a play on the Bathing Ape General which turned the general into a skeleton.
This crewneck features the skull general printed with a vintage treatment. The sweatshirt is very soft and fleecy on the inside but because of the strange sizing of the Ursus line, this size L fits like a slim size M. If you can get a hold of one, it comes with a strong recommendation from
solifestyle
, but unfortunately it was extremely limited in the USA with only 5 pieces released (1 purple, 1 yellow, 3 white). We recommend
Yahoo Japan Auctions
for your best chance at finding one.
Take a look at the stock photo below.