Brand Profile: A Bathing Ape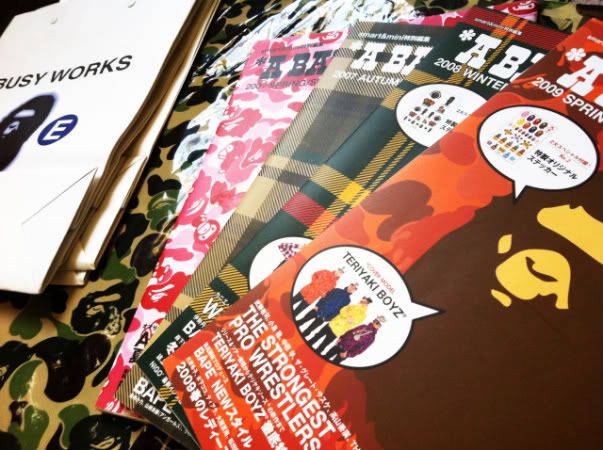 To know me is to understand an obsession which drove my existence for about 3 years of my life. That obsession was Japanese clothing and lifestyle brand: A Bathing Ape. Started in 1993 by the impulsive Japanese designer Nigo, A Bathing Ape or Bape became a streetwear power house in Japan during the early 2000's. When Bape opened its New York City store in 2005, a line stretched down Greene Street every day before opening and it was not uncommon to see fewer than 10 itmes in the store at any one time. Bape became a brand known for its exclusivity, high prices and iconic Planet of the Apes imagery. 5 years after the New York Store opened, Bape is still going strong, and luckily for my wallet I no longer venture to the store daily. But in the coming weeks, I plan to post some of my favorite Bathing Ape items here on solifestyle... after all- Bape is a lifestyle brand.
A Bathing Ape has spawned several sub brands and high profile collaborations since its humble beginnings in a small shop which Nigo dubbed Nowhere located in Tokyo Japan. Among these off-shoot brands were: Baby Milo, which features a cuter aesthetic; Bapy and Apee women's wear; Mr. Bathing Ape business wear; Bape Kids for children; and Ursus which features a simpler more grown up look. Bape has also collaborated with a who's who of street culture from around the globe including: Stussy, Futura, Kaws, Neighborhood, Head Porter, W)taps, Unkle, Daft Punk, Kanye West and more.
Bape is not only known for its Planet of the Apes theme, but for several design elements which have been present through its collections season after season. Perhaps the most well known is the Bapesta- a sneaker which follows the same design as Nike's Air Force 1 often produced in bright patent leather iterations. Another is Bape's take on camouflage which weaves their staple ape head into the design and has been produced in a rainbow of colors.
You can visit Bape's website here for the locations of it's 30+ world-wide locations.
Or if you are in the New York City area, you can visit the USA's only Bathing Ape store in SoHo:
A Bathing Ape
91 Greene St.
New York, NY 10012
(212) 925-0222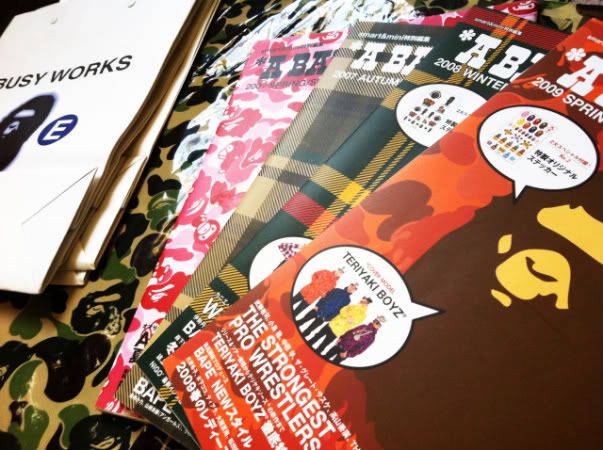 Bape Shopping bags from 2005-2007 and Bape collection catalogues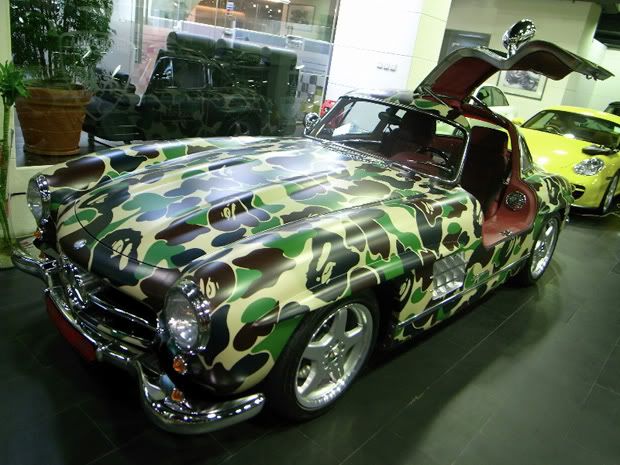 Nigo's Mercedes Gullwing in Bape Camo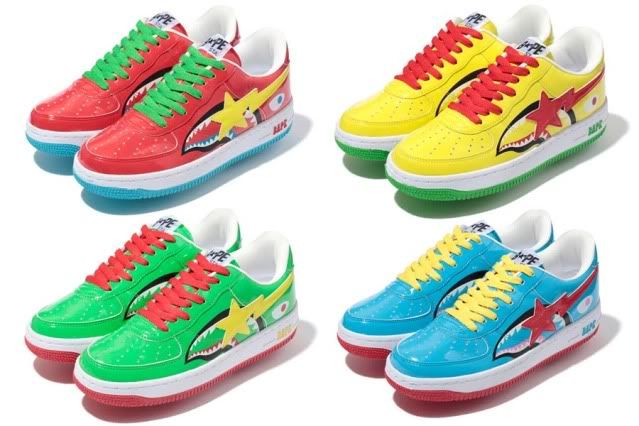 A Bathing Ape Bapesta sneakers in bright colors with another one of their favorite motif's the shark